The music cheque – an equality that we have long fought for!
We have twenty years of experience running and developing our music school in Lund. Now you can come to us with your child and only pay the same low fee as at Kulturskolan: 1120 kr per term. 
The music cheque is now valid for continual lessons for children born 2010-2014.
We continue to fight for the cheque to include children born 2009 and 2015, and hope that the politicians decide that the application will open for these age groups in the spring of 2022. Please talk to your local politician about this!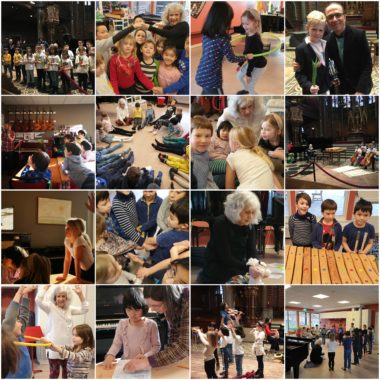 Apply directly here!
(choose LIMUS Musikskola AB)
Apply here if you live in Staffanstorps kommun.
Already applied for the Music Cheque? Choose the addition course 2e, for longer lessons.
Some background: 
Up until 2019, only children joining the municipal Kulturskolan received public subsidies to learn to play an instrument. Subsidies are paid directly to the school, making it cheaper for the parents. Children learning to play an instrument on other music schools, for example LIMUS Musikskola, had to pay the total cost.
After many years of fighting and thanks to our very dedicated parents, the politicians of Lund finally decided that all children should receive public money, even those who choose LIMUS or one of Lunds other music schools. This is called a music cheque. 
About us and the music cheque: 
With us you can choose from all instruments and different teaching languages. For violin you can also choose to focus on Suzuki teaching (needs to be written in a comment). 
Lessons are given in our own facilities – two custom-made music houses in central Lund. We also give lessons in schools in Torna Hällestad, Hjärup and Staffanstorp.
LIMUS International Music School is owned and run by its teachers. Our highly educated tutors give your child a multifaceted teaching and ensure a great start and a desire to learn more. All activity in the school – the individual lessons, smaller and bigger ensembles, concerts, projects and day camps during holidays – are tied together and form an inspiring musical environment for your child to grow in. Already when applying for a course you talk directly to us, a professional who cares for the teaching, and you are welcome to continue the dialogue for as long as you need to. 
The fee is 1120 kr per term and is charged by Lunds kommun. The rest of the real cost are subsidized with public money, same for all children. 
As a private school, we are used to working efficiently with our customers fees. We find that public money needs to be treated the same way. Therefore, students bringing the music cheque to us, will have more and longer teaching than at Kulturskolan. 
This is what Lunds kommun prescribe: At least 12 individual lessons / term of at least 20 minutes = 240 minutes in total. 
At LIMUS we give 13 lessons/term of 25 minutes. 
That is, we give 325 minutes individual teaching / term in total. 
This is what Lunds kommun prescribe: At least 300 minutes of teacher-led time / term. 60 minutes teacher-led time per term can be summed up with other students' times and used for group lessons, concerts etc. 
At LIMUS we give, besides the 13 individual lessons, also 2 group lessons / term of 50 minutes each = 100 minutes extra to play in a small group. Every teacher has a set ensemble time in their schedule where all the music cheque students in their class alternate.
If your child participate in one (or several) of our concerts we do not revoke a regular lesson but are happy for their desire to learn more. The two big music cheque ensembles is not counted either but an extra boost for interested students. 
Good to know: Your child needs to have his/her own instrument at home. For piano you would need a least a digital piano with 5 octaves and pressure-sensitive keys. Violins and cellos can possibly be rented with us. Other instruments we do not rent. To learn an instrument is fun but also complex. Between the lessons your children needs to practise at home. The teacher will show you how. We recommend that all of our students has a "homework folder", which facilitates a good communication between you and the teacher. 
LIMUS Special no 1:  Music cheque camp! During week 8 of 2020 we arranged a day camp only for music cheque students. We had two lovely days with rhythmics, movement to music, ensemble playing, music theory and composing plus half a day of rehearsal + concert at Allhelgonakyrkan, Lund. See pictures from our Facebook here. The day camp was very popular and returned during the summer holiday and höstlovet 2020 and the summer holiday 2021. Now we have decided that these camps should be recurring and permanent. New camps will be arranged for week 8 and week 25 during 2022! The non-profit organization Mozarts Vänner, MoV, usually back up the camps so that the fees for the children can be kept low. 
LIMUS Special no 2: Music cheque ensembles! On Tuesdays and Sundays we give two larger groups, with up to 18 players of different instruments, a chance to learn more. This is completely free. Students are proposed by their teachers. If there are too many players, the remaining places will be drawn at random. If you receive a place in one of these ensembles you sign up for the whole year. Final concerts are in April/May. Two or three teachers are leading these ensembles. We practise focus, discipline, listening to each other, rhythm, note reading and the joy of making music together. Recurring repertoire are the schools "Allspelslåtar" and the specially commissioned work "Skrylle-Walk" by JM Sjöberg, a piece of miniature musical poetry. 
Application to the music cheque is made here:
https://selundcheck.speedadmin.dk/tilmelding#/
1. Press the green button "Start"
2. Choose "LIMUS Musikskola AB" as provider. 
4. Choose LIMUS in the box "Välj musikskola*"
5. Read the rules about cancellation etc. Press the button "Nästa" (Next) 
6. Log in with bankID, fill in your personal data and finish your application. 

25 minutes lessons still too short? Yes, we know. 
Therefore we have made an addition course to the price of 2800 kr incl 25% VAT. 
Combining 2e) with the music cheque will give you 40-minute lessons for 13 weeks + 2 group lessons for the total cost of 3920 kr. 1 120kr (no VAT) will be charged by Lunds Kommun, and 2 800 kr (inc 25% VAT) will be charged by LIMUS.
A course of 30 minute-lessons per term for a child without subsidies cost 4 300 kr (incl 25% VAT) – also a very fair price. Apply here.
Note that a child can only receive ONE music cheque. If your child plays several instruments only one of them can be subsidized with the music cheque. 
Rules for cancelling your place with the music cheque is found here.
The music cheque is a continuous course, valid until you cancel it, just as at Kulturskolan. You do not need to re-apply. 
More info on Lunds kommuns homepage here.
2021-08-16