Application form (choose course 1b)
Babies in tune. Toddlers in tune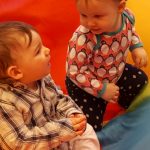 Start 2018: week 36 and week 48. Start 2019: week 10.
Our lovely teacher Johanna, mother to a baby and a pre-school child, is taking your little child on a wonderful adventure into the world of music. Your baby or toddler will start developing confidence and enjoyment of sharing music with others in a secure environment.
Together with one of their parents or another adult, the children will experience the basic elements of music: listening to music as an activity in and of itself, developing the voice, singing and moving to simple rhymes.
The use of elementary percussion will enhance a strong sense of pulse.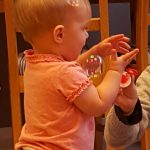 Languages are mixed, depending on the group: English, Swedish, German, French and Spanish.  A treasure chest of songs in different languages will be every group's individual achievement.
To be in tune and stay in tune is not always easy with babies, but surely you will learn how to come in good tune with new tunes 🙂
Thursdays 13.00 – 13.45 (ca), Babies in tune 6- 12 months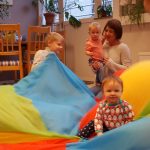 One child and one adult. No older siblings.
Thursdays 14.30 -15.15 Toddlers in tune 1-3 ys
One or two children, each has to be registred, and one adult.
No children older than 3 years.
Both courses are given at Möllegatan 8. There is an elevator at the front door. Johanna could open it for you if really needed. Please leave your baby carriage as far as possible outside the school,  preferently in front of the lesson room.  We are sharing the corridor with teenagers from Hedda Andersson Gymnasiet.
2018-07-22